How do I report bad behavior on Stardoll?
You can find the report tool all over the site. It usually looks like a small exclamation mark:



You can use this tool to report another stardoll in all our community features, like presentations, comments, parties and chats.

If you get an inappropriate chat message, you will find the option to report in the chat box' menu: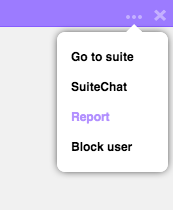 Help us make Stardoll a safe and fun site by reporting other users only when they have broken the
One Stop Rules.
It is important to
report the right object for the correct reason
. Making false reports or any other abuse of this function may result in termination of your account.
Note that you can also block a member that is bothering by clicking the "block user" button in their Suite.
WHAT HAPPENS TO THE REPORTS I MAKE?
We take all reports seriously. We analyze all reports and if we consider that there has been a breach of our One Stop Rules, the content will be removed and further actions may be taken.
You will not be contacted by Stardoll again in the matter unless we have follow up questions or if we are not able to handle your report.
I'M GETTING REPORTED FOR NO REASON. CAN THIS HURT MY ACCOUNT?
Our team carefully reviews all the reports and we never send warnings or delete an account because of false reports. So if you did not break the rules, there's no need to worry.
Last updated: 2017-01-27 14:34:49